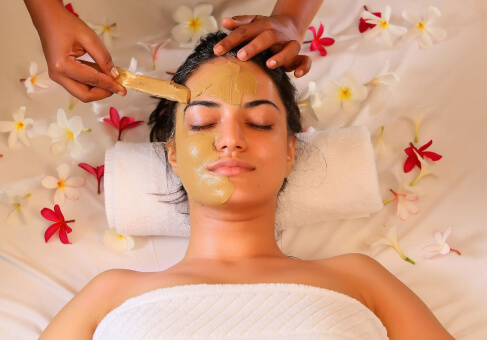 Beauty Care
According to Ayurveda, our face and body reflect the state of our emotional and physical well-being. It cannot be veiled by cosmetics. Here in Apthasree through ayurvedic internal cleansing therapies like Panchkarma and Kaya Chikitsa (to free the body from toxins) boosts the outer radiance of the body naturally. Also through herbal steam, scrub, massages, facial packs and toning to rejuvenate outer cells, improve blood circulation and convey natural radiance. These treatments stimulate the deepest layers of the skin and soothe the whole body; remove scars; restoring moisture and elasticity.
Hair care
The condition of your hair is the reflection of your internal health. As such external application or care isn't enough to stay it shining and dazzling with health and vitality.
According to Ayurveda, hair type is directly linked with somatotype, thus each hair type is exclusive
. Hence, the explanations for hair loss vary from person to person depending upon their mind-body and soul harmony.
General Causes:
• Hormonal imbalance
• Nutritional deficiencies
• Pollution
• Hard water
• Stress
• Complications of other diseases and medications
• Chemical treatments
• Coloring of hair
• Dandruff
• PCOD & Menopausal stage
• Increase in testosterone hormone in female
• No proper nourishment to the hair
Ayurveda's Role:
Ayurveda focuses on Diet and Lifestyle concept to market holistic health of body including hair care. If your diet is deficient in hair-friendly foods, or your digestion isn't ok then it can definitely cause thinning of hair or hair fall.
Apthasree Ayurveda provides counseling on proper diet and life style to promote hair growth. Also, it's come up with traditional and effective therapies like Shirodhara, Abhyangam, Nasyam. Successful administration of these in conjunction with some herbal medications for 2-3 months remarkably arrests hair fall.
Shirodhara may be a combination of two words, shiro meaning head and dhara meaning flow. Medicated liquids are gently poured over the forehead which is useful in complete cleansing of the body by eliminating the toxins there by strengthening the hair root follicles. Not only this, Shirodhara helps in reducing stress hormone 'cortisol', induces a sound sleep and may reverse premature graying of hair.
Weekly oil massage on head is a good treatment for hair loss. A number of varied oils and herbal extracts, including Bhringraj, Brahmi taila which strengthen the hair roots are used for massaging. This improves blood circulation and enhances hair growth.
Skin care
Skin could also be a mirror that reflects the qualities of the Raktadhatu (blood) and thus the Rasadhatu (body's plasma tissue). A healthy, glowing skin is that the results of excellent quality Rasa and Rakta and may always look attractive even without make-up. No skilled beautician can hide the dull look around external applications if the skin is unhealthy inside.
The ancient healing science of Ayurveda may be a revolution within the world of natural skin care. It works on the Principle of knowing your skin type first then starting with the treatments suitable to your particular type.
Ayurvedic skin type of a person can be
• Vata (generally dry, thin, susceptible to dry, windy weather),
• Pitta (pinkish, prone to freckles and moles)
• Kapha (Greasy, thick, oily)
• A combination of these two.
Sometimes, it's going to change due to external factors like diet, lifestyle, climate or pollution. At Apthasree, we consider all these factors before choosing a skin-care program for you.
The treatment procedure involves the following general steps:
• Knowing the skin type
• Cleansing using suitable herbs and medicated oils to urge obviate toxins.
• Nourishment and moisturizing through suitable massages to reinforce tone and Revitalize skin.
• Diet counseling
• Yoga, Exercise and Meditation
• Hygiene